Can you introduce yourself?
My name is Lamin Barrow, I am a 22 years old poet and artist who roots from the Gambia. As a child I played with poems and sketches instead of the usual things children play with. Already, then I told my family and friends that I want to be a fashion creator and writer, part of which was ridiculed, judged and questioned.
"My artistic name is Tha Rainx. I choose this name, because it tells the story of how I love the rain and identify with it, and the colorful sensation that comes right after it".
My artistic name is Tha Rainx. I choose this name, because it tells the story of how I love the rain and identify with it, and the colorful sensation that comes right after it. I like to wholeheartedly believe that this world is my canvas and I am here to discover myself. Graciously, I am ready to show the world all that I've kept hidden for the previous years of my life through my art and being.
What do you feel you have been hiding from the world that you now show in your poetry?
From the earliest memories of my childhood I didn't discuss my sexuality. After I lost my father this year I know, even though he never understood my sexuality and choices, he wished for me to be happy. Happiness for me means dwelling in my truth and creating art inspired by who I am and what I feel. Slowly I am welcoming the truth of my sexuality and lifelong desires into my poetry and art in its rawest form. With that I have opened a chapter of conversation for self-healing.
How did you first come into contact with Spoken Word in The Gambia?
Growing up in the Gambia, I never felt I was enough or owned a voice, so I found refuge in poetry and art to connect to my truth, provide responses to my bullies and embrace colors, words and illustrations to tell about myself. Through my art I voiced topics of concern in my society to heal myself and like-minded people around me. In the eyes of others, I adjusted and denied my true self for long. But in the absence of eyes and ears, I breathed and lived to what was deep inside of me.
At junior school, as part of the school curriculum, I took on literature. Here I studied novels and poems from both African and Western authors. Being the best literature student of my class allowed me to expand my knowledge of the subject to clearly express myself in a newer direction. I founded the Nusrat Literary and Debating Society and developed writing poetry. I asked the principal to allow me to recite them before the assembly, and continued reciting my work beyond school level, conferences, theatres etc. From both Junior- and High school, I graduated with the best in class. In 2016, same year I took part in a talent competition organized by the Balance Crew team and won the best poet of the year 2016 and 2017.
Where do you get your inspiration from?
A lot of my inspiration for my art comes from how I was raised, the joys of childhood I was denied, the stories of the minorities, and a bigger part has to do with imaging myself in a world that allows me to be true to self without judgments, punishments and cultural limitations. I was a child who was brutally bullied all through my life in the Gambia for being too different and outspoken.
My life in the Gambia did not allow me my own true story. I wrote, but only shared that which fulfils society's expectation of boys along the pinnacles of masculinity. During this time, my poetry became advocacy. I was writing to lend my voice to themes that were silenced but accepted in the new Gambia, like mental depression, female genital mutilation, cancer, lost freedom etc.
How did people respond to your poems about, what I think, were taboo topics at that time?
My poetry is very metaphoric, so the authentic story is sometimes hidden in the words and between the lines. When my poems met the expectation and norms of my country it was celebrated. The ones that are controversial were mostly misunderstood and in some cases not understood at all.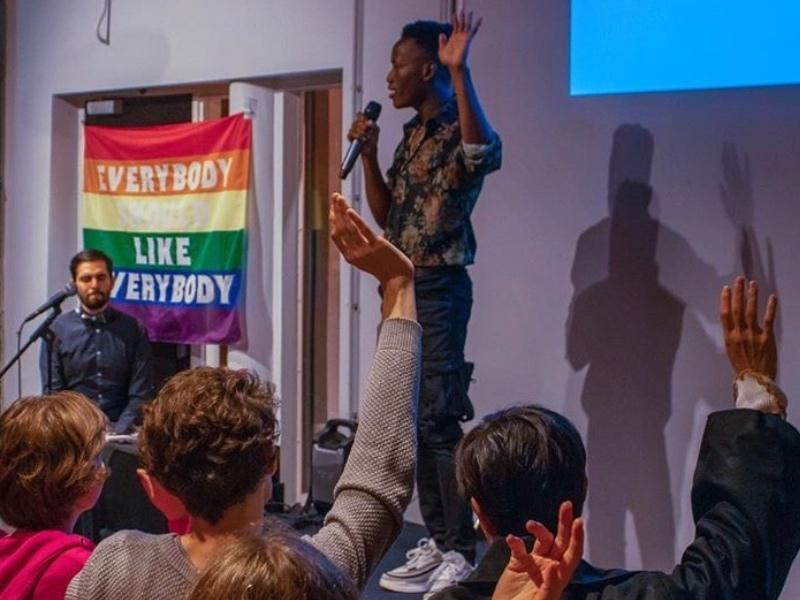 Can you tell me about your journey to The Netherlands?
My journey to The Netherlands began in July 2017. I attended the University of The Gambia where I did my Bachelor in English Language. There, I joined the university of The Gambia drama club and became the assistant coordinator that same year. I was responsible for creating scripts to be rehearsed and performed by the team. During my work as assistant drama coordinator, we received an invite from the Ministry of Tourism, Health and Culture to perform a skit on chemical weapons exploitation as requested by the conference organized by the Organization for the Prohibition of Chemical Weapons (OPCW). Here, I worked with the team to deliver a production. I had the leading role and performed a spoken word poem at the end of the event. Here I met officials from OPCW the Netherlands who recognized my stage talents and one of them gave me an invite to work with him in the Netherlands. That is how my journey began.
How did this journey to the Netherlands influence your artistry?
My first time in the Netherlands, I took part in a poetry and storytelling competition organized by the Lombok International Storytelling and Poetry festival. I won this contest, which allowed me to creatively spread my wings, dream bigger and ask more from myself. Still, with the limitations on my visa, I started studying with United Pop in Amsterdam studying Fashion Design and Textile.
As a curious person who identifies himself as a citizen of the world my journey to The Netherlands allowed me experiment with and professionalize my art and learn new cultures. I had to teach myself that my life deserved better. Living out the closet, part of which involved embracing opportunities and finding my true self.
My engagements and times in The Netherlands have helped me to unveil the unfairness and double life I was living.
What would be your ultimate goal or dream connected to your artistry?
The ultimate dream, I wholeheartedly intend to achieve, is to have my art be known internationally. I would also like to work with creative designers to further discover myself. Take my poetry on tour. I would like to live in a safer environment where my life isn't threatened and bullied, be surrounded by a newer family and re-raise my inner child's joy.
"I have accepted myself fully and am proud to own my voice and stand a proud black and young gay man".
---
You can find more about Lamin and his art at: